We meet as a church at 10am on Sunday mornings in the 'Onbevlekt Hart van Mariakerk' in Heverlee.  This is just outside the ring around Leuven, in an area called Terbank.

Address: Tervuursesteenweg 92, 3001 Heverlee*
*On Google maps: type in Tervuursesteenweg 80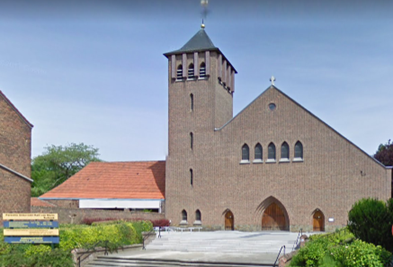 HOW TO GET TO THE TERBANK CHURCH
All information can be downloaded in one document.
BY BIKE
The Terbank church is within cycling distance from the centre of Leuven, about 2 km from the Grote Markt or 3 km from the railway station.
BY CAR
Parking space in the immediate vicinity of the church is very limited. The easiest alternative is the parking area located at the Tervuursepoort, which is about 370 m walk from the church.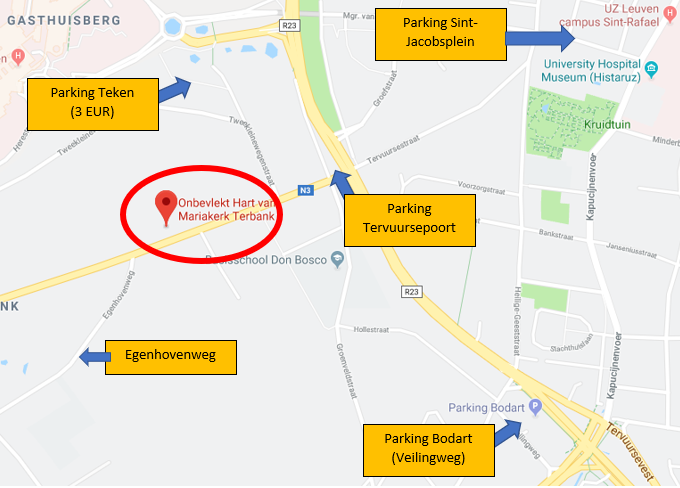 BY BUS
There are three bus stops close to the church. The closest one is located at the crossing of the Tervuursesteenweg with the Egenhovenweg (150 m from the church). Two other bus stops are located at the crossing of the the Tervuursesteenweg with the Berg Taborweg (600 m walk) and at the crossing of the Monseigneur van Waeyenberghlaan with the Groefstraat (800 m walk).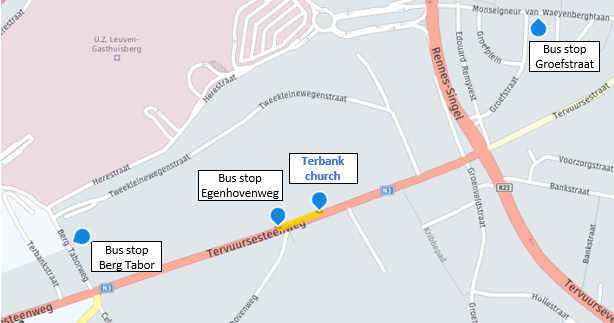 BUS 316 LEUVEN – STERREBEEK – KRAAINEM
9:09 Leuven station
9:13 Rector De Somerplein
9:20 Bus stop Egenhovenweg
BUS 7 BIERBEEK – BERTEM
9:33 Leuven station
9:37 Rector De Somerplein
9:50 Bus stop Berg Tabor
BUS 395 LEUVEN – HOEILAART
9:35 Leuven station
9:39 Rector De Somerplein
9:48 Bus stop Berg Tabor
BUS 371 LEUVEN – BERTEM – TERVUREN – KRAAINEM
9:39 Leuven station
9:43 Rector De Somerplein
9:47 Bus stop Groefstraat