THE END OF AN ERA!
Because of renovation works, which will start in the summer of 2019, ICEL cannot make use anymore of the Chapel of the Pope College, which we have used for the last 17 years.
AND THE BEGINNING OF A NEW ONE!
After a long search, we are very grateful to have found a (larger) Catholic church building, the "Onbevlekt Hart van Mariakerk", located at the Tervuursesteenweg 92, 3001 Heverlee, in an area called "Terbank", just outside of the ring of Leuven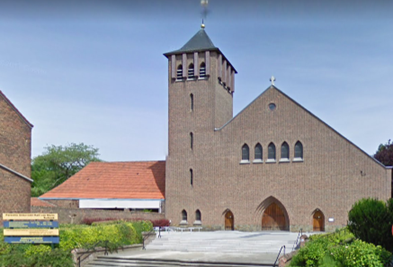 THE DATE OF THE MOVE
The last Sunday service in the Pope College will be on Sunday June 23rd 2019.
At the end of that service, we will empty the chapel of the Pope College and move what we want to keep to the church in Terbank.
Everyone is most welcome to help in cleaning, carrying material, transporting it to the new church building.
From Sunday June 30th ICEL will hold its Sunday services in the Terbank Church.

HOW TO GET TO THE TERBANK CHURCH

All information can be downloaded in one document.
BY BIKE
The Terbank church is within cycling distance from the centre of Leuven, about 2 km from the Grote Markt or 3 km from the railway station.
BY CAR
Parking space in the immediate vicinity of the church is very limited. The easiest alternative is the parking area located at the Tervuursepoort, which is about 370 m walk from the church.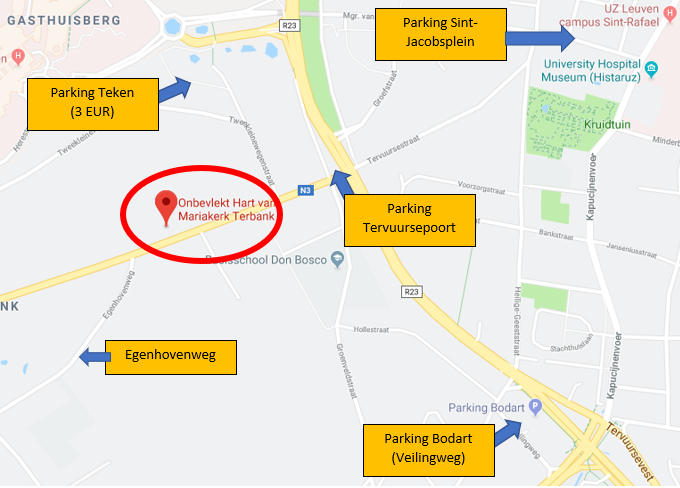 BY BUS
There are three bus stops close to the church. The closest one is located at the crossing of the Tervuursesteenweg with the Egenhovenweg (150 m from the church). Two other bus stops are located at the crossing of the the Tervuursesteenweg with the Berg Taborweg (600 m walk) and at the crossing of the Monseigneur van Waeyenberghlaan with the Groefstraat (800 m walk).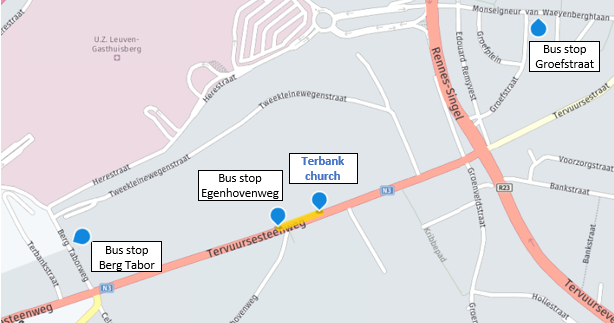 BUS 316 LEUVEN – STERREBEEK – KRAAINEM
9:09 Leuven station
9:13 Rector De Somerplein
9:20 Bus stop Egenhovenweg

BUS 7 BIERBEEK – BERTEM
9:33 Leuven station
9:37 Rector De Somerplein
9:50 Bus stop Berg Tabor

BUS 395 LEUVEN – HOEILAART
9:35 Leuven station
9:39 Rector De Somerplein
9:48 Bus stop Berg Tabor

BUS 371 LEUVEN – BERTEM – TERVUREN – KRAAINEM
9:39 Leuven station
9:43 Rector De Somerplein
9:47 Bus stop Groefstraat